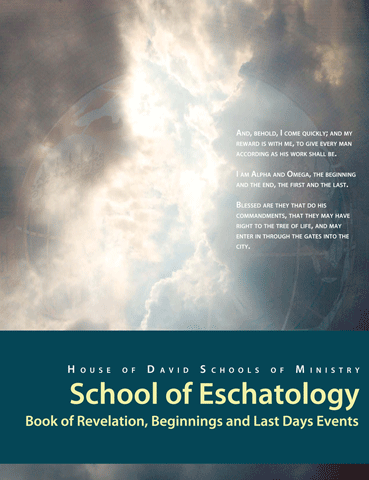 Spiritual Enrichment
Eschatology: Book of Revelation, Beginnings and Last Days Events
Behold, I come quickly: hold that fast which thou hast, that no man take thy crown. Him that overcometh will I make a pillar in the temple of my God, and he shall go no more out: and I will write upon him the name of my God, and the name of the city of my God, which is new Jerusalem, which cometh down out of heaven from my God: and I will write upon him my new name.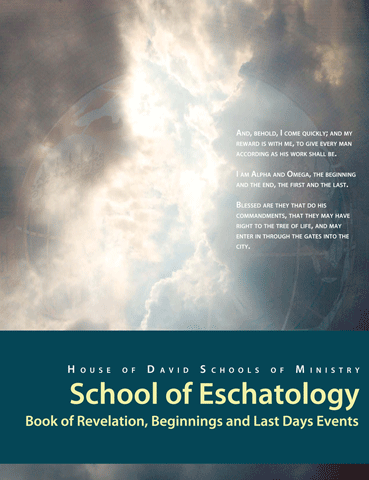 Additional Info
So often Christians are asked questions regarding their faith, regarding the origin of religions, of man, of gods, the beginning of days, as well as the end of days, and many have no idea how to answer these questions. This course will give you knowledge using Biblical references regarding the many questions that both the Christian and non-believer has regarding who they are, who the true God is, God's intended relationship with them, and how all other religions (false teachings) came to be. If you have desired to understand biblical prophecy, including much of the Book of Revelation, then this course will bless you. You will learn what color the Lake of Fire is, and why it is that color. You will learn whether man will spend eternity in Heaven or someplace else, based on the King James Version of scripture. This course will teach you about the rapture of the Church and the various judgments that the Church will face, as well as the world. You will learn what the tribulation period is and what will happen during it. This course includes teachings on the millennium, and the fate of all who have ever died. You will learn about the eternal bodies that many will have throughout eternity. This course will cause you to grow and be able to address difficult questions that many have, including those of other religions. Imagine being able to explain to those of other religions how their beliefs (although false) came about. This course will also help you win people to Christ, for it not only gives you information about things, but also gives you a Christian character base, which will cause you to speak the truths of God's Word with power, causing conviction to fall on those who hear, for the Holy Spirit will be free to speak through you, because this course would have prepared you to become God's vessel.
This Course contains the following lessons and assignments that will build your Biblical understanding:
Revelation Chapters 1-3

The Rapture

Revelation Chapters 4-6

Daniel Comparison Of Revelation Chapter 6

Revelation Chapters 7-9

Revelation Chapters 10-12

Revelation Chapters 13-15

Revelation Chapters 16-17

Revelation Chapters 18-19

Revelation Chapters 20-22

The Origin Of Man

Before The Throne

The Origin Of "gods"

Are You Lukewarm

The Divine Appointment

The Spirit World

The Dynamics Of Hell

Rewards

Eternal Life

The Millennium

Heaven or New Jerusalem
This course is set up for personal study as well as for small group teachings.